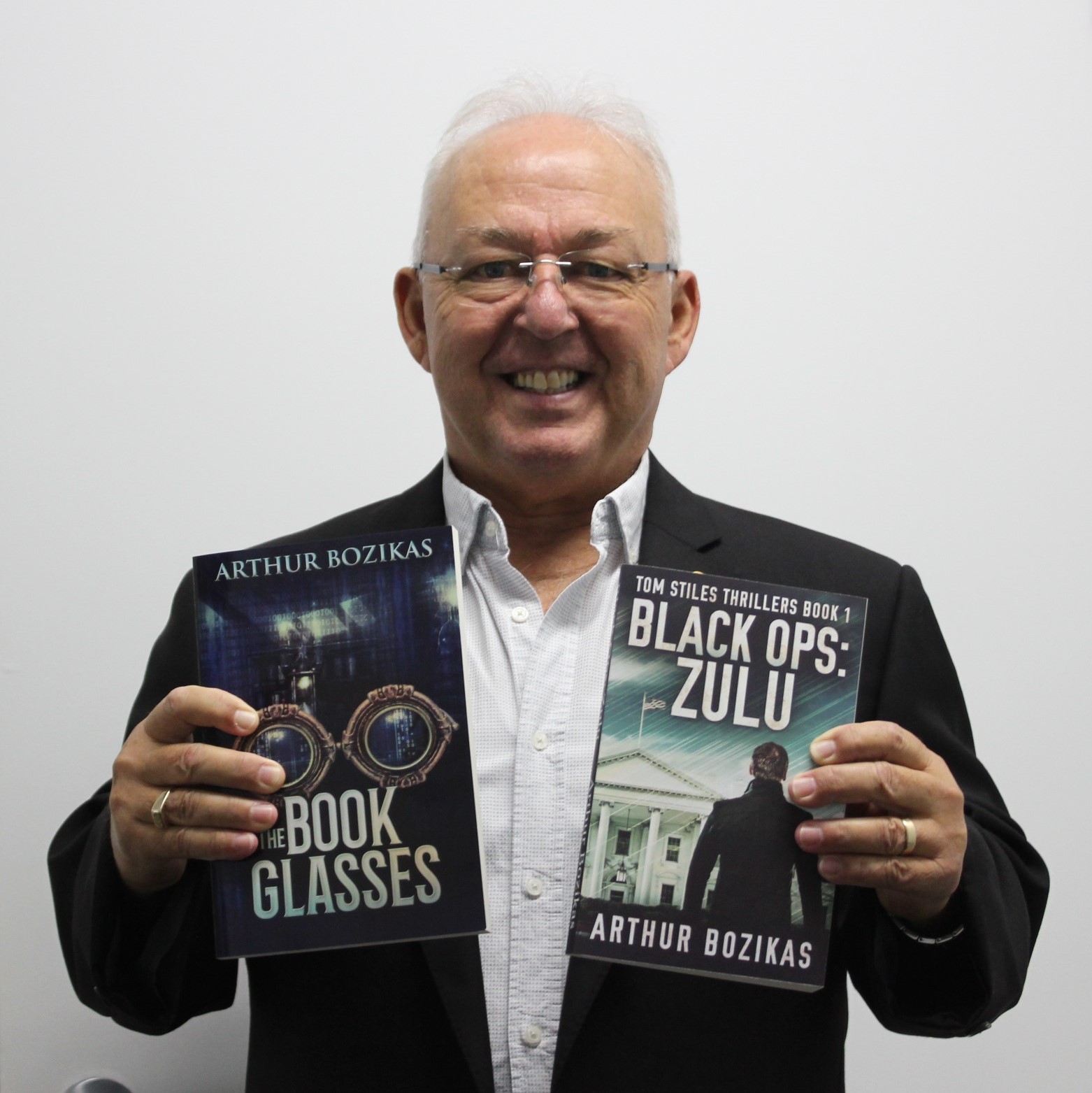 Max Webber Library Blacktown: Author Book event and signing
Thank you to author, Mr Arthur Bozikas OAM, who has donated copies of his three books to Blacktown City Libraries. Arthur is the CEO of disability service organisation, Self Advocacy Sydney Inc…
The Digital Journal: Chatting with author Arthur Bozikas, OAM: 'The Book Glasses' book (Includes Interview)
Samantha Page, the protagonist in this story, is faced with a very difficult decision, what was the inspiration behind the plot theme? Stephen King has always…
The American Reporter: Going Deep With Breakout Author Arthur Bozikas
Arthur Bozikas has set the literary world on fire with his groundbreaking book 'The Book Glasses.' In this story Samantha Page, his protagonist, can't read and is…
USA Reformer: Author Arthur Bozikas Opens Up About his Hit Thriller 'Black Ops: Zulu'
'Black Ops: Zulu (Tom Stiles Thrillers Book 1),' is a brilliant thrill ride that will not let you go. Filled with its electrifying plot and provocative characters Bozikas delivers…
Arthur Bozikas: Discussed His Latest Bestselling Book 'Black Ops: Zulu'
'Black Ops: Zulu' is truly an amazing work of suspense that captivates almost as much as it invigorates the mind and the senses. From start to finish the book drops the reader…
Greek Herald: Iron Boy - How five words changed Arthur Bozikas' life
Bozikas' tale of "hope, survival, and prospering against the odds" is charted in his new autobiography Iron Boy: Surviving Beta Thalassaemia Major. 
The Odyssey: Chatting with the Iron Boy Himself Arthur Bozikas
Arthur Bozikas has penned a memoir that is heart-breaking and gutsy, as well as being full of hope and gratitude. This book is guaranteed to lift up readers and have them believing in the resilience and transcendence of the human spirit…
C-Suite Network: Interview with CEO, Bestselling Author Arthur Bozikas on His Latest Book 'Iron Boy'
I had an opportunity to catch up with Arthur on his latest book, 'Iron Boy'. This book is inspiring, it is enduring, it is the story of struggle but also about the will and drive to move forward against all odds…
July 12th, 2022
Book signing and author event at Blacktown Max Webber Library. Arthur talked about his published books and donated them to the library's collection. Blacktown MP Stephen Bali also attended as a special guest. 
August 4th, 2022
Arthur Bozikas is interviewed by David Koch for Sunrise on 7. Full article here.
March 23rd, 2023
Arthur Bozikas hosts a book launch for his latest novel Contrarium: The Book Glasses Series 2 at Max Webber Library, Blacktown.