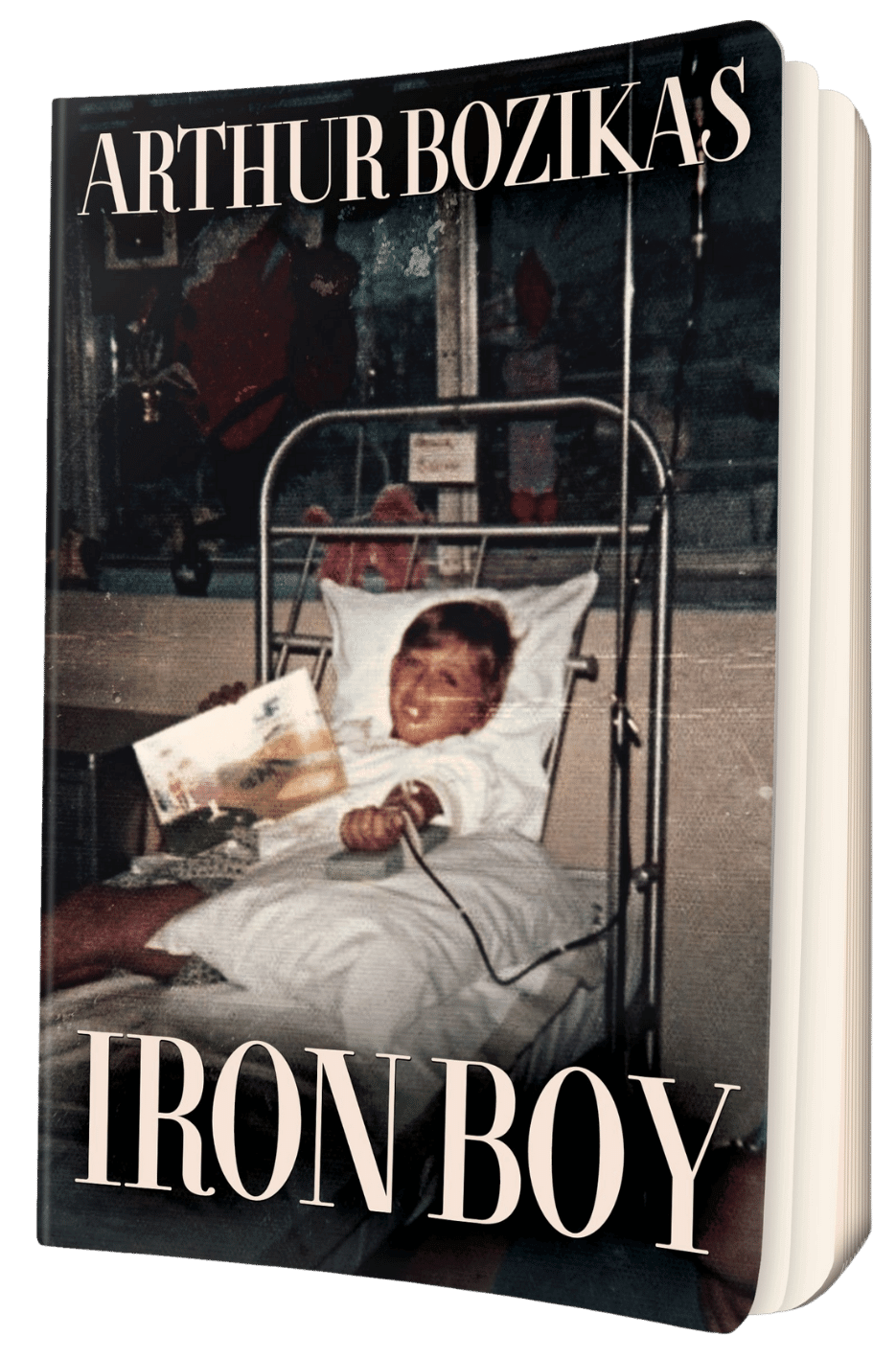 Since birth over 8,600 needle sticks, 700 blood transfusions and 2,200 blood packs to stay alive, and still counting!
SURVIVING BETA THALASSAEMIA MAJOR
If you ask people about their earliest memories, most will recall holidays and family parties. But for Arthur, many of his earliest memories include going with his parents to regular hospital visits and staying overnight for blood transfusions. These treatments have been a frequent part of his life since birth because he has beta-thalassemia major: a rare genetic disorder that reduces his body's ability to produce enough healthy red blood cells.
When reaching adolescence, most teenagers want more freedom, independence and control in their lives. For Arthur, it was the opposite, as he discovered that his lifespan would only last up to adulthood. After becoming an adult, Arthur was waiting for his death. It was at the eleventh hour, at the age of twenty-one, when Arthur was introduced to a miracle treatment, but only after the damage of iron overload from all the blood transfusion was done to his body.
Grateful to be given a chance to survive for a few more years, Arthur decided to do something with his life; to get married, buy a house and also to have children, knowing he had no prospect of any future for himself.
At the age of sixty, Arthur and his wife Helen celebrated their thirty-five-year marriage anniversary.
Iron Boy is a heart-breaking, gutsy and honest story about Arthur's fight back from the darkness, and of his will to survive and prosper against all odds. To date, he has had 8600 injections, 700 blood transfusions and 2200 blood packs. In September 2016, Arthur was awarded an Order of Australia Medal (OAM) on the Queens' Honour list as a result of over two decades as the CEO for a disability organisation, supporting disadvantaged people.
Kirkus Reviews: Iron Boy
"A thoughtful story of determination and finding joy in life"
A moving memoir of one man's lifelong experience with a rare blood disorder.
Thriller writer Bozikas, the author of Black Ops: Zulu (2021), turns to nonfiction in this moving remembrance of his remarkable life. Since birth, the author has struggled with beta thalassemia major, a disorder that diminishes his body's ability to create healthy red blood cells. He describes growing up in the suburbs of Sydney, Australia, in the 1960s with an emphasis on how his disorder affected his daily life; for example, he began receiving blood transfusions from his earliest days and experienced traumatic medical emergencies, including a crisis that necessitated the removal of his spleen at the age of 4. However, Bozikas' memoir doesn't focus solely on health issues or get bogged down in medical jargon; instead, he engagingly presents the totality of his life experience from the 1960s to the present day, and he does so at a breezy pace. He notes his early love of comic books—including his connection to the Marvel Comics character Iron Man—and his engagement in sports as a youth. He later details meeting his future wife, Helen, at a discotheque in 1983. In the memoir's most moving sections, he recalls how the couple handled the anxiety of whether their unborn child would inherit their father's struggle. For the most part, Bozikas presents a cleareyed depiction of a tightknit family undaunted by limitations. Ultimately, the book is a testament to perseverance, and Bozikas' account of his ascension to the role of CEO of the disability resource center Self Advocacy Sydney is likely to stay with readers long after they've put down the work.
A thoughtful story of determination and finding joy in life.
Clarion Reviews: Iron Boy
★★★★★
Iron Boy is a memoir about illness, superstition, and the ultimate arrival of hope.
Iron Boy is Arthur Bozikas's moving memoir about learning to live with a chronic illness.
Bozikas was twelve when he was first told that he wouldn't live past his twenty-fifth birthday. He was born with a chronic blood disorder, Beta thalassaemia major; it left his body was unable to produce healthy red blood cells. He required regular blood transfusions to survive.
Historical context about the condition is provided, including the fact that people with Beta thalassaemia major often did not live past early adulthood. Explanations of the treatments that Bozikas himself endured, which led iron to build up in his heart and other organs, are included alongside less narrative resources for learning more about the illness. Advice for helping others with the condition is interjected, too.
Despite his frightening prognosis, Bozikas writes that his childhood was not marked by fear. He was an avid comic books reader and a fan of Iron Man; he came to think of himself as a superhero, too. He was also led to believe that God would look after him if he gave his heart and soul to the Greek church.
Alongside descriptions of Bozikas's struggles with his illness, this disperse book also includes elements of family history, such as that his parents were immigrants who moved to Australia from Greece in the late 1950s; and that he had a troubled relationship with his brother, who was jealous of the attention heaped on his ill sibling. Later, the work stretches to include Bozikas's love story—about how he met his wife, Helen, as well as the details of their first, troubled pregnancy in their early twenties.
With clarity and concision, Bozikas takes care to explain the medical terms and practices that he covers, many of which are central to his story of recovery. He also ably deals with topics like migration and the struggles that follow from starting over in a new country, intertwining his tale with those of his parents. This weaving results in moving revelations, as of about how religion and superstitions impacted his family's decisions. He discusses how his parents overcame their initial assumptions, desires to place blame about his condition, and superstitions about the illness, deciding to focus on finding a cure: "Once my parents convinced themselves that I was normal, they believed it wholeheartedly."
Iron Boy is a memoir about illness, superstition, and the ultimate arrival of hope.
Beta Thalassaemia Major
Beta Thalassaemia Major is passed from parent to child in genes. Genes carry information about human characteristics such as eye colour, hair colour and haemoglobin. Haemoglobin disorders vary in their symptoms, ranging from mild to life-threatening. Even within each condition, different people are affected to different degrees.
Haemoglobin disorders include beta thalassaemia major, sickle cell disease, alpha thalassaemia minor and haemoglobin E.
All haemoglobin disorders cause some level of anaemia, which can make you feel tired and drained, and puts extra strain on your heart as it tries to pump oxygen around your body. Thalassaemia is inherited. It is not contagious or transmitted by germs.
People born with beta thalassaemia major are unable to make healthy red blood cells like everyone else and need frequent blood transfusions to survive. In the past, people with beta thalassaemia major did not live past early adulthood. The treatment caused iron to build up in the heart and other organs from all the blood transfusions and that eventually results in heart or organ failure.
This and other related information can be found at the following thalassaemia society links: 
Or contact your closest thalassaemia society near you.
Prologue
October 1986
Where was my wife? I found myself sitting alone in front of the obstetrician, who my wife, Helen, and I had met for the first time only minutes earlier. 
But now Helen was gone. After another quick look around the doctor's plush office, I excused myself and went out to search for her. Surely she wanted to hear what the doctor had to say? 
After dismissing her unusual behaviour as a possible toilet dash, I was stunned to find her outside in the carpark next to our car. She was in hysterics, crying and shaking uncontrollably. 
'What's up sweetheart, are you alright? Is the baby okay?'
'I'm not going back in there, I'm not!' Helen screamed through her tears.
'No, of course not, why? What happened honey?' I was confused and now very concerned.
'You know why, you heard him! I'm not terminating our baby!' Helen burst into tears again.
'What?' I said in disbelief. This was news to me. Apparently, I had been more distracted than I'd realised as I had missed the doctor's words.
It was October 1986, I was twenty-five years old, she was twenty-three and this was our first pregnancy. The sense of achievement of being a husband was still new, and soon I was to be a dad. The very thought was overwhelming, wonderful, and scary. It sent me flying high with exhilaration, but then I would remember my medical condition and crash back to earth. The ensuing fear was crushing. 
What if our child inherited my condition? Would I be responsible for denying both my wife and our child the chance of a normal life? Panic then manifested inside me, sending my thoughts spiralling out of control. I also now envisioned our baby being born with huge deformities that wasn't even related to my condition.
These misgivings had started the day we'd found out Helen was pregnant. After that, on a daily basis, worst-case scenarios constantly bombarded my mind, exhausting me. 
As I'd sat next to her in front of the obstetrician, I'd been assailed yet again by those tumultuous thoughts. Perhaps, if I had reined in my troubled introspection, I would have noticed her leave the room. But overwhelmed by my fears, I was oblivious.
'Look, I can't offer you anything else. Hello, your wife needs you!'
'Sorry, did you say something?'
'I SAID, your wife needs you!' The doctor practically shouting while pointing pretentiously over my shoulder toward the door behind me. 
It was twelve when I was first told I wouldn't live past my twenty-fifth birthday. Born with a chronic blood disorder called beta thalassaemia major (Thal), the doctors said my body was unable to produce healthy red blood cells and therefore, I required regular blood transfusions to survive. Since then, it had only been the generosity of wonderful blood donors that had kept me, and others like me, alive. We are known as Thals.
Unfortunately, after so many blood transfusions over the years, all Thals suffer from iron overload and finally succumb to heart and other major organ failures. The doctors said this could happen from childhood through to late teens or, for the lucky ones, early twenties.
Back then, comic books were still the rage. Batman and Superman were always my favourites but every once in a while, I came across an Iron Man comic and was captivated by the hero's suit of armour. The stories were okay, but I was fascinated with what Iron Man could do.
So when I was first told I was going to die from iron overload before my mid-twenties, I wasn't concerned because I truly believed I was Iron Boy. At the time, I felt my older Thal friends didn't know what they were talking about when they said I was going to die because I thought iron made me stronger. I was convinced that I was impenetrable, just like Iron Man. Iron Man comics saved my life at a time when reality would have destroyed my spirit at the most delicate age in my life.
Now I was twenty-five and soon to be a father. I couldn't believe that I was there with Helen visiting an obstetrician, knowing I had reached my shelf life. How could I be so irresponsible, so thoughtless, so stupid? 
Then I remembered I was in love with the most beautiful woman in the world. 
I may not have been normal, but who is? I knew Helen loved me and that's all I needed to be strong for her and the baby. Then and there, in the doctor's office, I decided to take on whatever challenges this doctor's visit brought, good or bad, because I knew I could achieve anything in life with her love. It was this epiphany that snapped me out of my introspection and made me notice Helen was missing.
But my nightmares were coming true. With my heart racing, and feeling light-headed, I helped Helen into our car while trying to calm her down with a gentle voice. At the same time, my heart was breaking. 
 'What do you mean the doctor had recommended termination of our baby because of my condition?'
'He said that this baby, being our first, was more likely to have inherited your condition and suggested we should terminate and then try again for a better chance at a healthy baby.'
'Hey, sweetheart, stop crying, he's just an old fart who is stuck in the past. Let's get a second opinion, from another obstetrician. Don't worry about what he said.' But nothing I could say could pacify either of us.
He made this vile and monstrous diagnosis at our very first consultation without taking a blood test from either of us, without consulting with any specialists and without even examining Helen. A doctor's profession is called 'practising medicine' but that advice was unprofessional and unfounded. This advice, from a senior doctor with his experience, a specialist in his field, is something no one would have expected to hear. 
Already struggling with a heavy heart regarding my mortality, my worst nightmares were coming true. How was I going to remain strong for Helen?
Chapter 1
New Australians, 1956 
The Menzies government era was full of hope and prosperity for Australians. Back then, my mum and dad were both referred to as new Australians. Dad arrived in Australia after first starting off from Patras, Greece by ship just before his twenty-first birthday in 1956. His ship was bound for Sydney but ran aground in Melbourne, so he completed his journey by train. He was sponsored to immigrate to Australia by his first cousin, Bill Bourakis who was originally from Corinth, Greece. 
My Uncle and Aunty Bourakis already had a beautiful home in Summer Hill, an inner suburb of Sydney. At the time, they were expecting their first child (my cousin John), and my Uncle Bill was eager to show Dad the ropes, to help him find a job and get established in Sydney. Uncle Bill barely knew a dozen English words, which was a great deal more than my dad, who was impressed with Bill's language skills.
My dad, in desperate need of a job, found an advertisement in the newspaper for a machine operator position and told Uncle Bill he could operate any machine, given the chance. This put a smile on Uncle Bill's face, and they set off for the address specified in the ad, an office on the sixth floor of a building in George Street, right in the middle of the city.
On arrival, they found they were the only males answering the advertisement once noticing only women waiting. Uncle Bill assured Dad that this was a good sign. Then he waved the newspaper advertisement under the nose of the receptionist to attract her attention.
'Please job… she for job… she job!' Uncle Bill explained confidently while pointing at Dad at the same time.
Impressed with Uncle Bill's multilingual abilities, Dad stood back, quietly hoping.
The receptionist looked at them with disbelief. 'You know this is for a typewriter machine operator? Is your friend a typewriter machine operator?'
'Yes, oh, yes!' Uncle Bill answered, nodding his head.
The receptionist escorted them to a side office where, to their bewilderment, they discovered a state-of-the-art typewriter sitting on a bare desk in the middle of an empty room. 'Here you go. Tell your friend to show me his skills,' shouted the receptionist rudely.
Uncle Bill looked at Dad and encouraged him to have a go. Without hesitation, he planted himself in the chair and proceeded to type his fingers off. The typewriter sounded like a music box with a ring of a bell every time he started a new line. Uncle Bill and the receptionist watched in wonder as Dad typed away. After completing almost half a page of typing, he sat back, looking confident, and rested his hands behind his head. 
With a smile from ear to ear, the receptionist reached over and removed the paper from the typewriter. She stared at the page in bewilderment and then turned the sheet of paper upside down. 'What is this?' she yelled, her smile transforming into a scowl as she shoved the paper in front of Uncle Bill's face.
Uncle Bill looked at it and confidently replied, 'This is Greek!'
'Greek? I want someone who can type Australian, not Greek.' She threw them both out of the office, locking the door behind them.
Jobless and bemused, they exited the building. Once outside, Uncle Bill turned to Dad. 'When did you learn how to type?' 
'I didn't. I saw it in the movies, and I always wanted to try it!' Dad replied wickedly.
***
For the next two years, until my mum arrived in 1958, life for my dad revolved around looking for jobs during the week and playing soccer every afternoon and on weekends. At the height of his playing career, Dad played for Sydney Olympic Football Club. He lived and breathed soccer, dedicating every available minute he had to the sport. Soccer kept him fit and sharpened his mind at a time when he was struggling to adjust to a new life, far away from his family, in a country at the other end of the world.
Yes, soccer wasn't just a pastime for Dad, it was a way of life, seven days a week, for him and for his newfound mates, who were mostly also new Australians.
Chapter 2
First Born, 1959
When Mum finally arrived in Australia from Lafka, Greece, also by ship, she was only twenty-one and felt vulnerable after a voyage of almost three months. Away from her home and family for the first time, she felt alone in this strange new country. She even lost contact with new friends she had made along the way almost immediately after they got off the ship in Sydney.
Mum's name was Panawoolla, a name that didn't go down too well in Australia in those early days. Co-workers at the biscuit factory in Camperdown where she got her first job on the conveyor belt would refer to her as 'bloody Nora' because they couldn't remember her name. The name 'Nora' stuck.
When Mum and Dad got married, Mum legally changed her name to Nora. Within a year of her arrival in Australia, Mum and Dad met, fell in love, got married and gave birth to their first son. Nicholas was born on Mum's twenty-second birthday, 1959. He was fortunate to miss out on inheriting Thal, but my parents were soon to discover the truth about our family's so-called 'curse'. 
When Nick was born, Dad was working as a labourer and Mum as a cleaner anywhere she could find work, places like large government office buildings in the city and later, an assortment of bus and train depots around the suburbs. 
To them, Australia was the lucky country, and people overall were kind and supportive. A large majority of immigrants like my parents settled in the larger cities of Australia, particularly Sydney and Melbourne, contributing significantly to economic and numerical growth. The result of this process has been the development of the nation's multicultural society and my parents were very much a part of this. 
In early 1960, they moved to Erskineville, which was home to a large number of immigrants from all over the world, especially from Greece. This made Mum and Dad feel almost at home and was a comfort to them in this trying period of their lives. They were able to comfort one another in their homesickness.
Still adjusting to life in a strange land on the other side of the world, these newlyweds with a newborn baby and a second child on the way were soon given some earth-shattering news. 
★★★★★
"Iron boy is a truly touching book that will make you smile but also cry. It will be a roller coaster of emotions that goes up and down as you move along the pages. I personally loved how Bozikas explained the details of the sickness and the most important background information as it was much easier to understand the plot that way. It shows the importance of loved ones and their support as Helen represents a considerable reason for the author's long-lasting life. I without a doubt enjoyed every line of this mesmerizing and with great devotion written book. It touched me on so many levels that it is difficult to describe and I have been donating blood in a regular basis since reading it, which I would wish more people did. Don't hesitate to read this!"
★★★★★
"Iron Boy by Arthur Bozikas is the true story of Arthur as he grew up dealing with one of the rarest and strangest diseases known. To call this a come-back story is an understatement because Arthur stared the end in the face then took a giant leap and came away on top. I think this is a great read for anyone who is looking for motivation or inner strength because Arthur showed both in fantastic ways."
★★★★★
"It is not often I come across a true story that moves me, but this one did. What is it like, I wonder, to be in someone else's shoes when they have the sort of illness that Arthur has/had? This is truly an inspiring story that I will introduce to my friend. There is hope in this world, and this story showed what it could look like. I would recommend this book to anyone! It was great!"
★★★★★
"This is a story of pain and suffering but above all, a story of overcoming and hope.  This is a truly inspiring and highly recommended book for all kind of readers."
★★★★★
"What an inspirational story! A courageous individual, who has battled to live life to the fullest!"
★★★★
"This book is a testament to strength and resilience, fighting beta-thalassemia major, which is a genetic disorder. The narration was truthful, gripping and inspirational. Every page in this book carries powerful emotions of courage used to counter the effects of beta-thalassemia. From hospital visits to blood transfusions, the author describes every event, experience and physiological sensation in a way that the reader may find it hard to put the book down. I would say the writing is remarkable and describes family dynamics through this tough journey. It is writing in a way that urged me to keep on reading, the book is intense and powerful."
★★★★★
"Arthur Bozikas's story will grip your heart as you see the importance of being a blood donor, and this is just one story of how a selfless act saves lives. Iron Man is well-written, and I was taken in from the first chapter, knowing it will be with me for a long time. I highly recommend this book to anyone who enjoys memoirs. It is an exceptional read I enjoyed."      
★★★★★
"Beautifully narrated, Iron Boy is the autobiography of an Australian patient with a genetic chronic blood disorder called β-thalassaemia, quite common in people originating from the Mediterranean countries. The story is narrated in chronological order, starting from early childhood until today, and each chapter contains the most important events of a particular year or short period. Every chapter is interesting and fascinating in its own way, yet short enough so as not to be lengthy and tiring. The story seen as a whole is very inspirational, starting from early years when this particular diagnosis was terrible enough to suggest premature death and continuing over the years, when advances in medical treatment changed the landscape completely and the writer managed to excel both professionally and in his personal life. Poignant at times, it never fails to add an optimistic and often humorous tone even at the darkest of times. The writer describes the challenges of tackling a chronic illness, often complicated by periodic misfortunes, alongside with the difficulties and pleasures of everyday life and his journey to personal fulfillment. I would strongly suggest this book, not only to all patients with thalassaemia and other chronic illnesses, but also to anyone who wants to find inspiration in a story of triumph of the human spirit."